Deeside ~ Dess
Need luxurious accommodation for a group, large or small, to get together?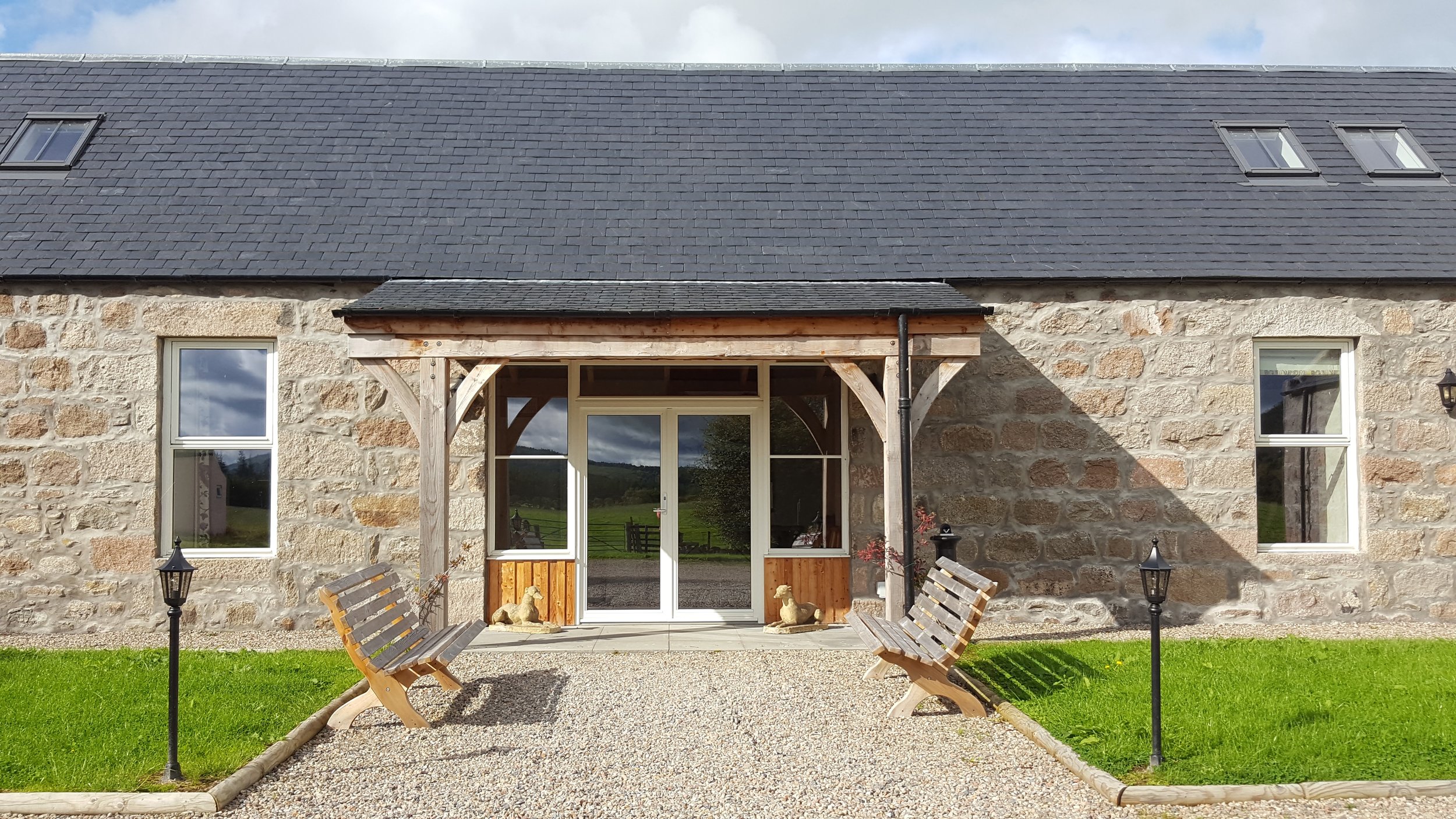 Mill fo Dess by Aboyne, Aberdeenshire
Anywhere from 2 to 20 people could stay at the fabulous Mill of Dess Lodge, making it perfect for a weekend away for two or a large group get-together.
My friend Sara and I enjoyed a girls' night away in Deeside in late summer and I found this place near Aboyne very last minute.
The handsomely restored Mill of Dess Lodge on Lower Dess estate has been thoughtfully designed to accommodate exclusive-use guests or B&B visitors (which we were) in two wings with 10 en-suite bedrooms separated by living and dining space.
It's a really well-presented property and, from the moment you enter, you know you're somewhere special. (You can click on the images to enlarge my photos.)
Public areas such as the grand dining room and more intimate sitting room feel spacious but cosy and, although we were there at the same time as three other parties, sharing the lodge never felt awkward - rather it was like being the house guests of highly accomplished and most accommodating hosts.
Stunning views, both inside and out of the Lodge, with luxurious yet comfortable furnishings throughout. With winning touches of tweed, leather, and stag decor, it all feels handsomely Scottish!
The bedroom we stayed in is usually made up as a Super King room but was staged as a lovely twin room for us with gorgeous beds, luxury linens and a soothingly warm en-suite bathroom that included a full-sized bath and powerful shower.
Downstairs, we enjoyed gin and tonics from the honesty bar (a big hit) and curled up on couches that were difficult to leave, even to enjoy the views on both sides.
But we did leave, for the afternoon at least, to hike along the Deeside way, just as a heavy rainstorm blew in...
Late at night and back from a very good supper at the Potarch, we chilled out with drams and started a giant jigsaw at the dining table, completely relaxed and enjoying a companionable silence, as the rest of the Lodge's occupants had gone to bed already.
Next morning, after an excellent breakfast cooked to order and served communally at the long table, we left Mill of Dess Lodge late morning feeling refreshed and re-energised.
We found Mill of Dess Lodge a wonderfully peaceful place to stay with delightful interiors and superb views; the staff were welcoming, helpful and knowledgeable. I hope to take advantage of the exclusive-use option at some point as it would be brilliant for a special occasion family / friends get-together. The Mill offers exclusive hire and can arrange country sports, including fishing, on its doorstep.
Have you stayed somewhere that you could recommend for an exclusive group get-together? If it's in Scotland, I'd love to know soon. Got a wedding anniversary coming up…
The Tripographer's notes
Unslumping level? 10/10

Would I go again? Yes - hopefully soon!

Best time to go? When you can gather enough friends or family to hire Dess exclusively. Any time of year.

Best for? B&B, R&R, exploring Deeside, celebrating a special event.

Top tip? Call ahead to discuss your preferences. This is a well-run place where they'll go out of their way to make your stay fabulous.
More info about this place
Other posts about this place
And if you liked this post, look at