Durham ~ the old town
The best places to eat and drink your way around Durham's historic centre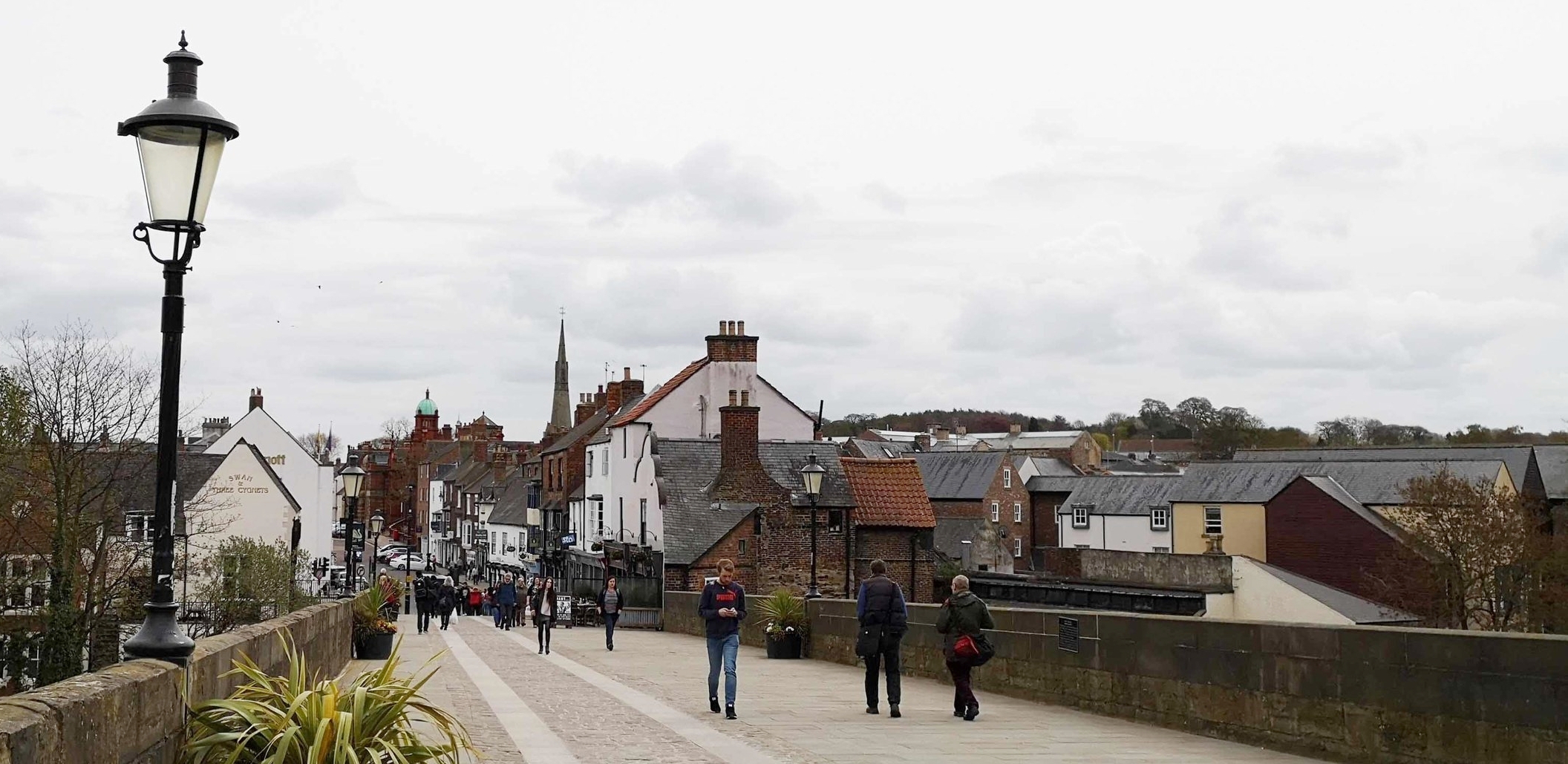 Like St Andrews, where I work, the old town of Durham is full of great places to eat and drink: pubs, cafes, restaurants, bistros, bars, tea rooms and takeaways. Many of them are independent places, locally owned and offering good service and great food and drink.
My sister Bernadine and I had just over 24 hours together in Durham and we managed to visit 9 places to eat and drink! This post covers some of those. As usual, clicking on the images will enlarge them for you.
We arrived in the early afternoon and, after checking in to our hotel (the Marriott Royal County Hotel), made our way out for afternoon tea at Tealicious, not far from the Swan and Three Signets (which has a great riverside beer garden) and less than a 2 minute walk away at the beginning of the Elvet Bridge.
There's another cafe right next door to Tealicious (the Cafe Continental) but TripAdvisor reviews pulled us into Tealicious. It was a good decision - lovely fresh food and friendly service - although we missed out on the Prosecco version of the afternoon tea because you have to book in advance to get that. (Presumably so they can pop to the off-licence?!) Instead we chose from the long list of specialty teas and made a valiant effort at eating all the scones, cakes and sandwiches.
We had a go at walking off our afternoon tea by wandering around the old streets near the Castle and Cathedral.
We then headed to the newer part of town, where a redevelopment of the shopping centre has included the addition of a zooty Champagne Bar, the Ebony. It was early evening and the place was full of very well turned out women meeting up in groups and catching up over some fizz. All very pleasing but perhaps a tad over-priced?
More wanderings and exploration before a stop for a gin in Old Tom's Gin Bar. An ancient drinking hole with fantastically photogenic interiors, this pub has a wide selection of gins, including one of my favourites, the Whitley Neill. It's a gin with an African-inspired infusion including the bitter fruit from the baobab tree and sweet acacia honey and, since Bernadine and I were born in Africa, a fitting one for us to celebrate with! (If you like gin but haven't tried this yet - do! It's delicious - use the ink below, in The Tripographer's notes.)
The Receptionist and TripAdvisor both agreed that the best place for us to eat was 'Spags' - properly La Spaghettata - and it was bloody marvellous: packed, noisy, rambunctious and delicious - perfect! We managed to get a table, but only just, and a long queue had formed on the stairs by the time we left, as Spags is extremely popular with locals, students and tourists. Gorgeous pasta and excellent value house wine served up by some authentic Italians :-) So good, I took zero photos (!) so here's their website instead!
More walking, soaking up the atmosphere and enjoying Durham's very lovely streets and views, including this beauty (above) of the Boat Club as we crossed back over the Bridge on our way back to our hotel. Before turning in for the night, we ended up at the recently refurbished Hotel Indigo which is just across the road.
The Indigo is in a grand and splendid building, once the city's council offices and, more recently, university property, and the restoration has kept and enhanced some of the original features, including decorative tiling, wooden panelling and stained glass windows. We had a night cap there but found the bar space … odd. It was impressive but not well laid out, with chairs and tables at uncomfortable angles and heights that created an awkward walk-through for diners heading to the Marco Pierre White Steakhouse adjacent. Worth seeing, though, and sounds like it might be worth staying there, judging by this review.
On our second day we had breakfast on Old Elvet and, later, thought about a stop at the Riverview Kitchen, which occupies the impressive riverside location under the Castle and just below the Framwellgate Bridge (preciously a Bella Pasta, apparently). But it was full so we popped into the tiny cafe on the path opposite, which served an amazing selection of home-made cakes - including this Mars version…
We had some time to look around the Market, at the heart of old Durham, and walked through the indoor market full of stalls and produce of every kind, before getting a coffee from a street vendor working from a converted 3-wheeler Piaggio Ape van. We decided against a visit to Sardines - the smallest bar in Durham, which is also owned by the Old Tom's folk (above) and tiny - space for just 16 people! Instead, havig enjoyed some great food and far too much tea and cake in 24 hours in Durham, Bernadine and I headed to the station to head, respectively, south and north.
I do - very occasionally - like an afternoon tea. But it's quite a girlie thing, don't you think? As the only female in our family of 6, it's not something I've done frequently, that's for sure! Best one? Probably the one for my mother-in-law's 75th at the fancy but friendly and fab-service Inverlochy Castle by Fort William. They put on a wonderful tea for us. Worst? Easy - the Old Course Hotel just after New Year. (Disappointingly not fancy, friendly or fab service for us but a friend of mine had her best ever there for her Mum's birthday. Perhaps a question of timing again?) (And what's with the Old Course's website? It's terrible!)
What's your favourite place for an afternoon tea or even just-cake? Or, more usefully for me, best gin bar? This is NEED to know, people, so do click on 'leave a comment' below. Help a gin-lover out!
The Tripographer's notes
Unslumping level? 8/10

Would I go again? Definitely!

Best time to go? Anytime, I reckon. Autumn for leaf colour? Christmas would be lovely - lots of independent shops and great places to warm up.

Best for? Browsing, boating, beautiful streets and nice folks.

Top tip? Walk as much as possible. Take the train and then stay somewhere central.
*The hierarchy of bishops (Lords Spiritual) in the Church of England:
Canterbury

York

London

Durham

Winchester
Buy: Whitley Neill gin
More information about this place
Other posts about this place
And if you liked this post, look at