London ~ RSC memorial
A war memorial to catch your breath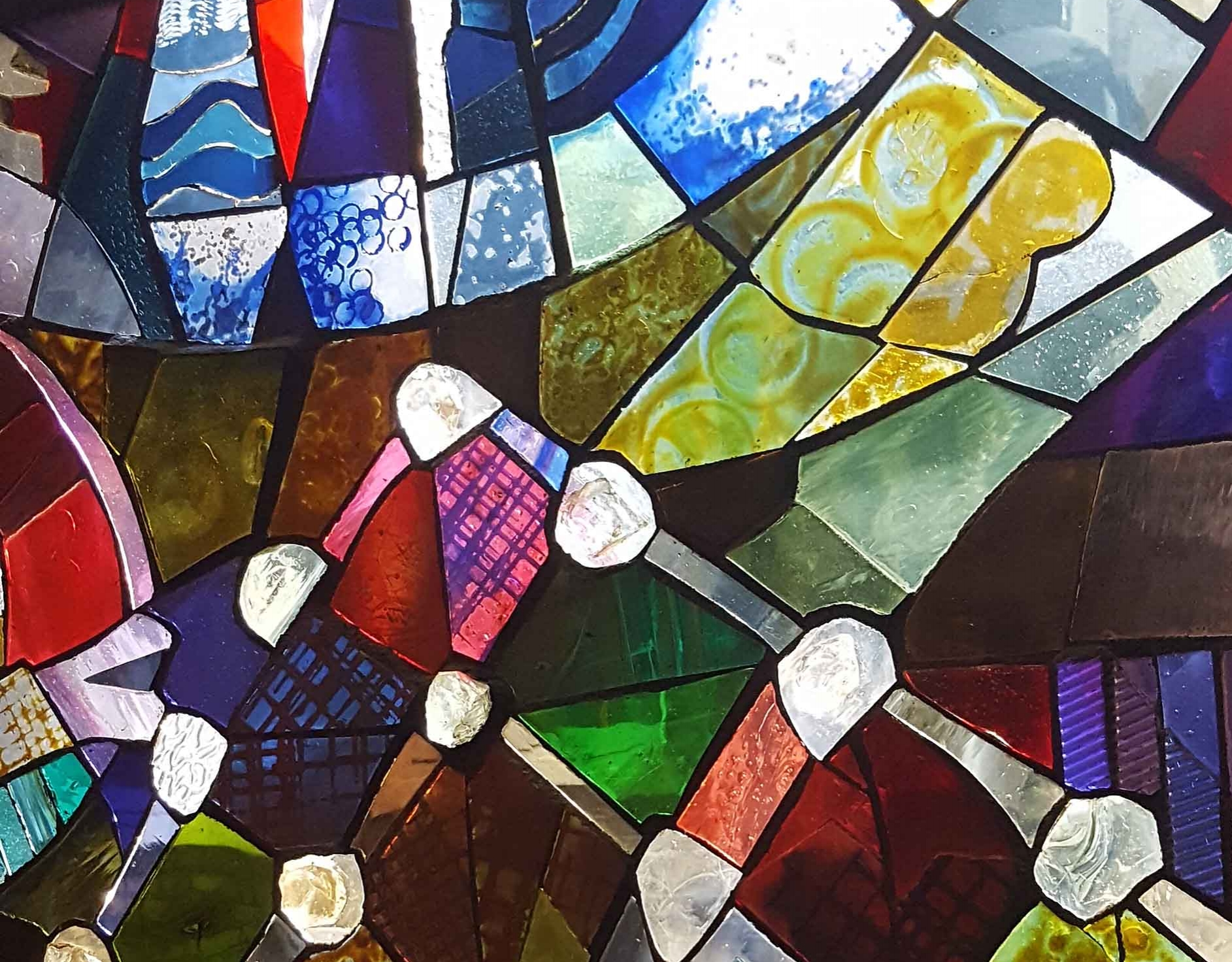 Royal Society of Chemistry
As an Arts graduate with a woefully limited Science education, the idea of attending a conference in London on Brexit at the Royal Society of Chemistry didn't promise much, but it turned out to be a fascinating place to visit because of a war memorial that you'll find on the staircase there.
The conference that was being held at Burlington House in London's Mayfair. The 'House' is a collection of grand buildings around an elegant quad just off Piccadilly and opposite Fortnum & Mason. The buildings, now owned by the Government, are home to the Royal Society of Chemistry and a number of other prestigious Societies as well as temporary exhibitions from the Royal Academy. We met in the Library.
Inside the Royal Society of Chemistry, you'll find this stunning stained-glass window. It's one of a pair that face each other across the 9' wide lower landing of the staircase.
The windows are at least 12' high with deliciously jewel-rich, kaleidoscopic panes that throw scattered, misty, shifting colours across the face of the wall-mounted memorial that is displayed in between them, straight ahead of you as you ascend the stairs.
The memorial has a fascinating but an almost unbearably touching story behind it that I thought you might be interested in.
The war memorial commemorates the names of chemists who died in active service and its heading, "Pro Patria", can't help but conjure up Wilfred Owen's poem Dulce et Decorum Est as you first take it in. But this conjuring becomes even more poignant when you absorb more of the detail of the bronze that sits above the heading.
Sculpted by Ernest Gillick, who also created the cenotaph in Glasgow's George Square, this bronze plaque pays tribute to the remarkable work and sacrifice of Edward Harrison, the chemist who invented the most effective respirator for the WWI gas mask.
Remember these lines from your school days, in Owen's 1917 poem? About the aftermath of a gas attack?
The 'misty panes' were the gas mask's windows, which enabled the wearer to survive but also forced him to bear witness to this most terrible, and most terrifying, of deaths.
Early gas masks were designed initially to reduce the impact of a single gas, chlorine, but, as the war intensified the use of poison gasses, and their variety, increased. In 1914, a Chemist named Edward Harrison and his team were tasked with finding respiratory protection from as many seventy different types of gas!
Research into the chemical filtration that could slow or restrict the permeation of gases took Harrison's team two years and involved working with many noxious substances, as well as self-experimenting - frequently to the point of unconsciousness.
The work was successful: Edward Harrison's gas filter was attached to masks and issued to hundreds of thousands of soldiers in 1916. Poignantly, this was the same year Harrison's own son was killed at the Somme. Harrison's filtered respirator was an invention that went on to save many thousands of lives but, regrettably, it cost him his own. The work's toxicity and tireless effort saw Harrison dead before he turned 50, just one week before the Armistice in 1918. (I notice that Wilfred Owen died on the very same day, 04 November 1918.)
The inscription to Edward Harrison on the magnificent bronze plate of the war memorial reads:
He gave his last breath, in fact. Humbling and inspiring beyond belief.
Harrison's life story is fascinating and his memorial is one of the most beautiful and affecting things I've ever seen. The light from the windows either side gives the solid bronze of the memorial an ethereal, fleeting animation that heart-stoppingly invokes the 'misty panes' line from Owen's poem - a visceral example of Freud's 'uncanny' that literally caught my breath when it struck me. My breath...
I suddenly found myself focusing on my breath and my breathing, unexpectedly conscious of it and self-conscious at the same time; aware of life as I stood and contemplated death, Gillick's exceptional work on this war memorial delivers a very touching and yet profound way to remember those who were killed in war; to ensure we never forget.
Could there be a better tribute to Edward Harrison's sacrifice and a reminder of the impact and importance of his life's work?
Had you heard of Edward Harrison before? What do you think of his story and his memorial? Let me know in the comments below.
If you found this interesting, I would really love it if you'd please help me to commemorate Edward Harrison, especially as it's 100 years this year since he died, by sharing his story with someone else?
The Tripographer's notes
Unslumping level? 10/10. Utterly inspiring and guaranteed to unslump you

Would I go again? Yes

Best time to go? Any time the RSC is open. You don't need to attend an event there to go in and ask to see the memorial

Best for? Remembrance and a beautiful library

Top tip? Go in when it's sunny for maximum effect.
More about this place
Reading List
Other posts about this place
A Map Exhibition at the British Library coming soon
And if you liked this post, look at