Oman ~ The Hormuz Grand
New, fancy and…empty - a hotel built in anticipation of change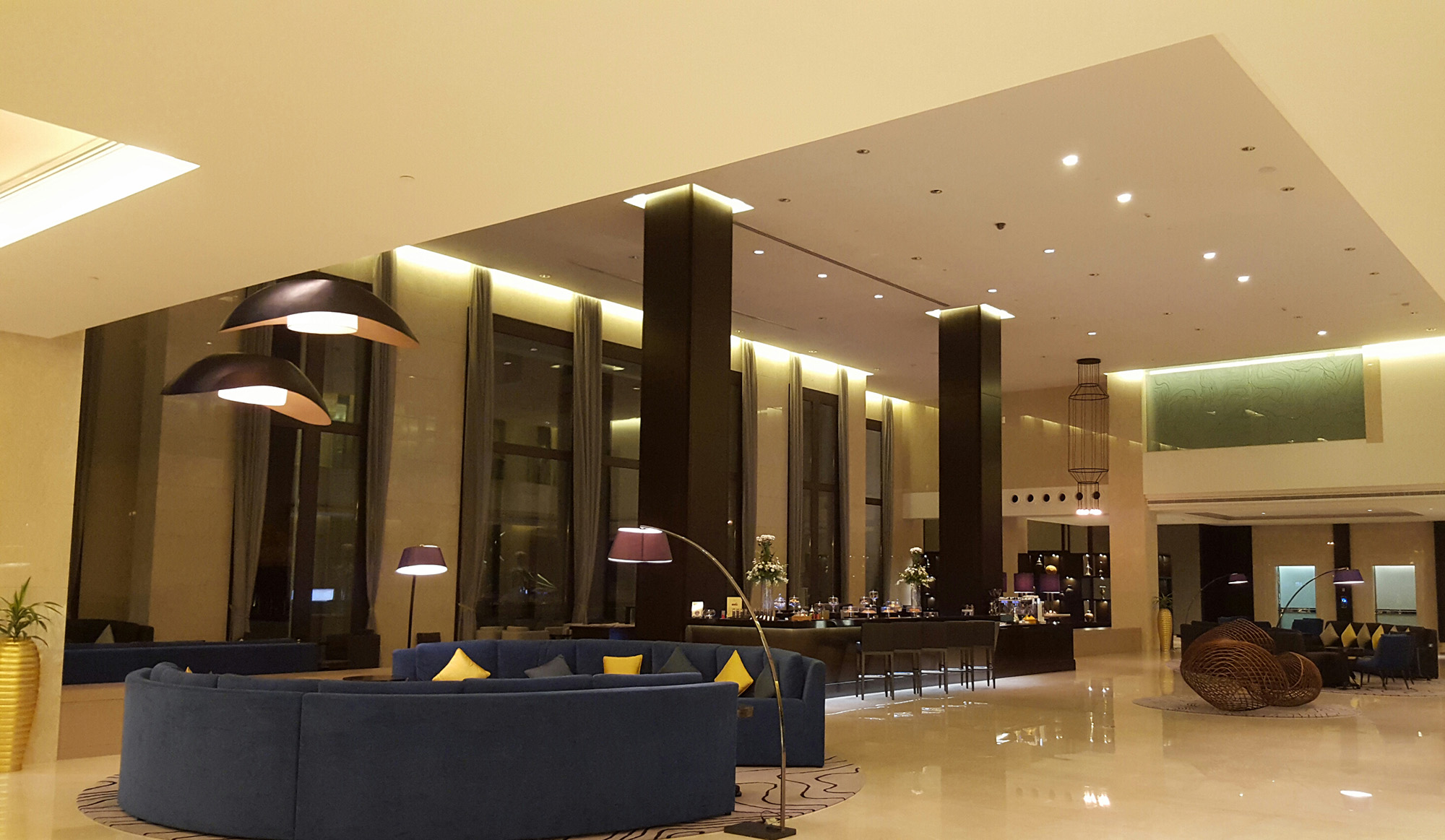 I have stayed at the Hormuz Grand when working - attending exhibitions at the Conference Centre or meetings at the Ministry - and when it's newness, emptiness and out-of-town-ness made it a bargain-price option. (Or at least to the extent that a bargain is possible in Muscat, which has some of the highest-priced hotels of anywhere I go for work.)
One review on Tripadvisor describes the Hormuz Grand as a 'five-star prison'. Having stayed there several times now for work, I understand why: it's the isolated location of the place. This is a hotel built on the edge of Muscat and built in anticipation of Muscat's business development coming out to meet it. That development and the change it will bring to this district are well under way but, for now, it's all just an enormous building site. The Hormuz Grand is the only finished construction to be seen. It sits, surrounded by sand, 10 minutes from the airport and close to a roundabout on an unfinished road with half-finished government and corporate buildings going up nearby. Its five-star isolation is, quite literally, an oasis in the desert.
The isolation of the Hormuz Grand hotel is reinforced by the fact that you cannot walk to anywhere from here. Firstly, there's nothing to walk to and secondly, there are no pavements to walk on, yet. Taxis, which are a protected profession in Oman - reserved (very proudly) for Omanis only - are very expensive, costing more than those in London. The steep taxi prices have the effect of dissuading you from a casual trip into the centre of Muscat (which would cost you at least £20+ each way), although the hotel does have a shuttle service, if the times suit you.
All that means that once you are inside the Hormuz Grand, you really need to make the most of what's there! Fortunately, what's there is beautifully designed and very comfortable. The interiors are handsome and impressive, with the doors in public areas as tall as 20' and plenty of marble and modern lighting. But it is the Hormuz Grand's exterior that really captures your attention.
The hotel is built around a rectangular courtyard that features a huge ornamental pond, wall-fountain, and swimming pool in formal gardens filled with huge palms and tucked-away seating areas, all softly lit to enhance the oasis feeling.
Heavily shaded and mostly empty by day, the outside space is stunning at night. Serene and restful under warm, inky-blue skies, the seating area is sweetly-scented by locals using hookah pipes and the pool is lit by submerged lighting and fringed with fountains, making it all feel welcoming, mesmerising even, and not at all like somewhere in the midst of a building site!
The pool's temperature and size makes it perfect for lengths and there are huge day-beds nearby to rest on afterwards. I have only once had to share the pool with another guest, so quiet has the hotel been on my off-season (August) visits.
Back inside, the ever-empty reception area reminds you that you are in an isolated spot on the fringe of Muscat. It has plush seating areas and an elegant coffee and tea bar serving snacks until late at night but the lack of patronage is off-putting, especially to a solo traveller, so I have yet to sit in this space.
There is a restaurant at pool level and a gorgeous but very pricey Indian restaurant on the reception level but, typically, I eat in my room here because it's less fuss and easier to 'go small', in terms of quantity and cost. Because the hotel has been quiet when I have visited, I have been given a junior suite which includes a separate seating, dining and work-space area, in a room between the bedroom and bathroom. It's a lot of space for one person and it's clean, comfortable, crisply designed and well-thought out, with lights and sockets where you'd want them.
Although I did once arrive late at night - perhaps 1 am? - and struggle to find any staff at the front of the hotel, in general I have found the staff at the Hormuz Grand very helpful. But it also feels like they need more guests through their hands in order to 'knock off the edges' in their sometimes-clunky service levels.
At times, there seemed to be more staff than guests at the Hormuz Grand but I am sure this will change when the building site surrounding the hotel is replaced with busy government buildings and corporate offices. Then, the staff, swimming pool and public spaces will have the patrons they were trained for and designed to accommodate. Then, the sense of isolation at the Hormuz Grand will surely diminish, allowing its five stars to shine in the middle of Muscat's newest business district.
The Tripographer's notes
Unslumping level? 6/10

Would I go again? Maybe, if the deal was good and I was working at that end of Muscat

Best time to go? October - March

Best for? Business and handy for anything at the airport end of Muscat.

Top tip? If the hotel is quiet, you're more likely to get a free upgrade, gaining you a seating and dining area, which is perfect for room service.
More info about this place
Other posts about this place
And if you liked this post, look at